Welcome to your weekly gossip column! This week, Atletico Madrid's Radamel Falcao receives a sparkling GQ Award, Sara Carbonero plays 'paparazzi' with Elijah Wood, Ronaldo does 'Gangnam' style, Sergio Ramos is spotted in public with his ex-girlfriend Lara Alvarez and Kevin-Prince Boateng presents a familiar gift to Melissa Sata.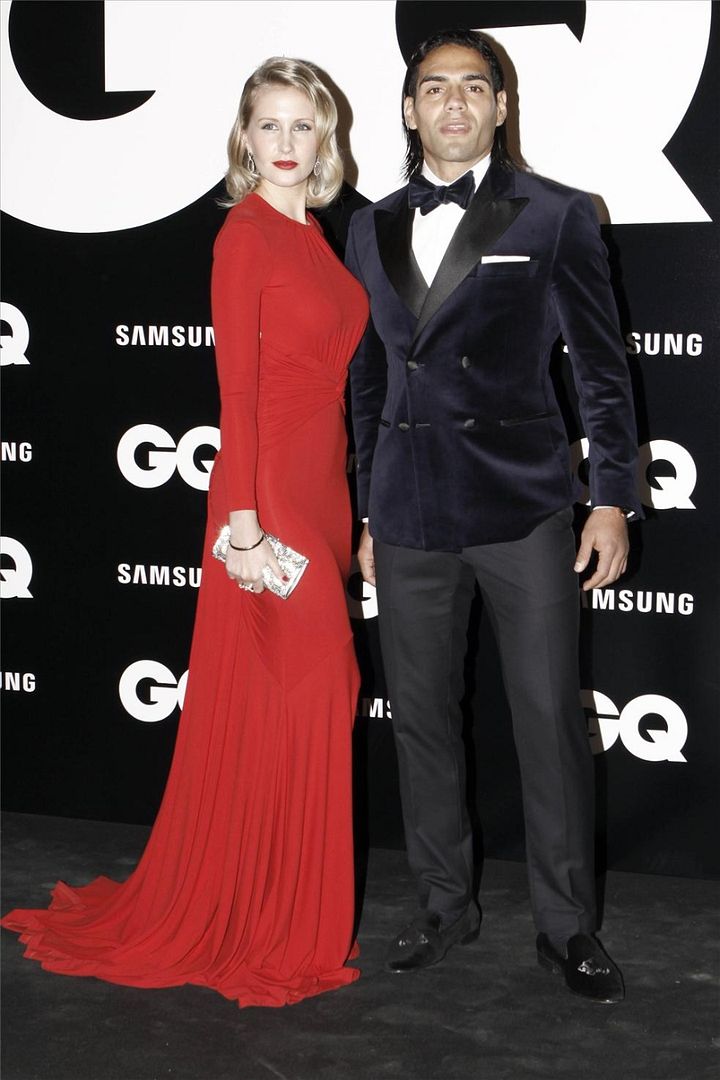 We spent a good part of the weekend talking about Radamel Falcao with a table of Rojiblancos and most of it involved yelling "Crack! Crack!", "El Tigreeeee!" and "lo que un Genio!" over Shakira music. But everybody loves Falcao these days, and you'd be hard pressed to find a football fanatic who hasn't heard about him, or at least, longs for his club to buy him in January.
The Colombian has had an amazing year, scoring a hat-trick against Chelsea to help Atletico win the Super Cup in August and prior to that, the Europa Cup. In recognition of his impressive performances, GQ magazine awarded Falcao with the title of Best Athlete of the Year and a glittery awards ceremony he attended with his wife, Lorelei Tarón, an Argentinean singer (seen in a stunning red dress above).
For equal measure, the organisers also got Puyol's ex-girlfriend, Malena Costa (looking gorg in that dress above) to present Falcao with the award. If we could sum up the thoughts in your head via a text message right now, it is probably this : "????!!%?"
Well, it does make sense if you consider this : Malena is currently engaged to Atletico Madrid's Mario Suárez, who just happens to be Falcao's teammate.
When you're a retired footballing legend like The Original Ronaldo™, there's nothing much to do except to attend black-tie events, pretend to be interested in social causes and of course, dance away to the single most annoying song on the planet – 'Gangnam Style'.
Ronaldo participated in 'Medida Certa', a reality TV show where where participants compete to lose at least 20kg by the end of the programme. In addition to pilates, poor Ronaldo was an unlikely victim of this aerobic workout, although he shouldn't be complaining – he is, after all, surrounded by women!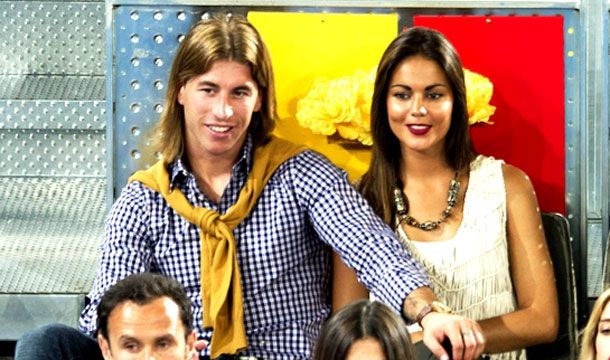 According to Spanish portal Vanitatis, Real Madrid defender Sergio Ramos is back with his ex-girlfriend, Lara Alvarez (as seen above). You may recall that in the last few weeks, Ramos was repeatedly link to Spanish TV personality Pilar Rubio, whom he was spotted with many times since September, and whom he reportedly introduced to his parents.
Alvarez, a sports journalist, and Ramos, broke up for the third time in summer this year, before deciding to end their relationship after Spain's Euro 2012 victory. On July 2, Ramos dedicated his win to her and wrote on his Twitter : "For you, for me, for us. Thank you for always being there. S & L"
Here's an unlikely person playing the role of the paparazzi : Sara Carbonero! But when you have a Hollywood actor like Elijah Wood sitting across the table from you, you don't have much of a choice, do you?
Anyway, Sara and her beau Iker Casillas were out dining at a restaurant in Madrid this week when a member of Elijah's table approached her and asked if she could please snap a photo of the group. Meanwhile, Casillas took the opportunity to snap a classic photo of the incident. Unfortunately this time, Frodo from Lord of the Rings was unable to present an actual ring for the Madrid SuperCouple – you know which one we're talking about!
AC Milan's Kevin-Prince Boateng and his girlfriend, Melissa Sata, were said to be embroiled in a little bit of kerfuffle last month, when it emerged that she had been exchanging flirty text messages with Cristiano Ronaldo.
Now that all those ridiculous rumours have been squashed, the Ghanian is said to have presented Sata with a specially-commissioned Rolex watch with the couples initials engraved on it. Lovely, except that Sata's ex-boyfriend, Cristian Vieiri, also presented her with two watches from the same brand! Coincidence? Well, it makes sense – you wouldn't want your fiancee to be wearing a watch given to her by an ex!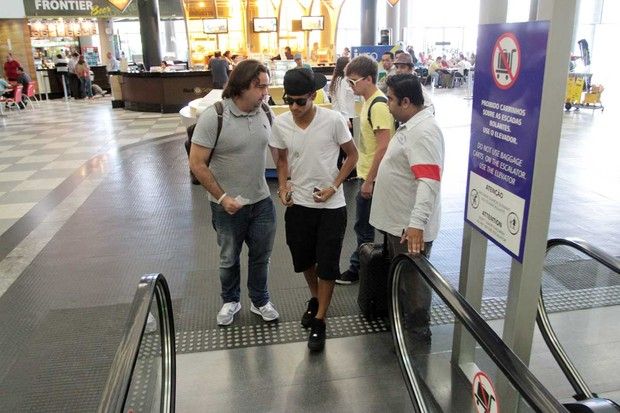 Last but certainly not the least, Neymar was spotted making his rounds around the Sao Paulo airport last Friday. The Santos player, who has been repeatedly linked to Brazilian teen actress, Bruna Marquezine, has denied all reports that they are in a relationship (much to the chagrin of the Brazilian paparazzi).
D. Neide, the mother of the actress, has also grown annoyed with the subject about her daughter's personal life. "I can't stand it anymore," she declared, when asked by Brazilian portal 'EgO', about their status.