Video: Ghana striker Gyan's beautiful back heel pass gets rave reviews despite defeat to USA
Ghana striker Asamoah Gyan got some praise from the media for his beautiful back pass that resulted in the Black Stars equaliser in the 2-1 defeat to the United States at the World Cup.
After the Americans took a lead in the first minute of the game, a rash of injuries had helped Ghana take the momentum in their World Cup opening match up.
The Ghana attack was relentless and they dominated in possession and shots.
It seemed like only a matter of time before one of the waves of Ghana attacks finally produced a goal. The Ghanian attack came into the box and Asamoah Gyan got the ball in the zone, but took a one-touch back-heel pass that found André Ayew cutting into the box.
He then went to the near post getting the ball past American goalkeeper Tim Howard. In the slow motion replay you can see Howard go to his left at first only to try and correct his course to go back to his right to block the shot.
The shot really seemed to change the momentum of the game, that was already going against the Americans. The USMNT were trying to hold on to a win with a defensive effort, now they looked poised to spend the final minutes of the game trying to hold onto a single point from a draw.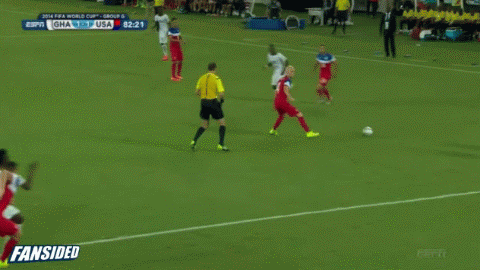 Then there was this interesting fan enjoying the game: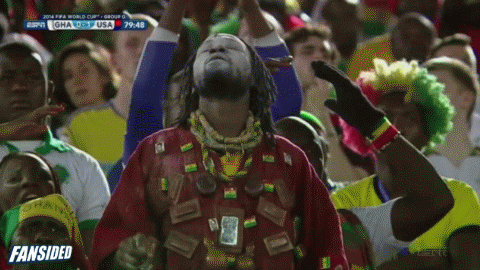 GIFs and videos are from @FanSidedGIF and either Mike Dyce or Zombie Prophet, make sure to follow those accounts for the latest in GIFs and videos from FanSided.
Comments
This article has 18 comment(s), give your comment