The Ghana coach believes mentality is key to sporting success and is working to instil a winning one as they chase success in the Africa Cup of Nations
Avram Grant knew he was going to get pelted with bottles and other missiles, but he walked out of the tunnel anyway, leading his Ghana team through the barrage. Getting off the pitch at half-time in the Cup of Nations semi-final two years ago had been hard enough; getting back on for the second half, through a Malabo crowd that had come to the abrupt realisation that (at least until they brought in a helicopter midway through the second half) a police force that had repressed it for years was all but powerless in the face of mass dissent, was far harder.
Walking out first, overtly demonstrating leadership, was a conscious decision by the former Chelsea manager. "Sometimes you need to show them," he says. "Because the atmosphere … my assistant said to me: 'I'm not going. There's too many stones around.' I said: 'Don't worry, nothing will happen.' But I didn't know … the helicopter that was right over my head. It was crazy. But we won, so it's good."
Having beaten the hosts Equatorial Guinea 3-0 in that semi-final, though, Ghana lost on penalties in the final against Ivory Coast.
Given Grant had also lost a League Cup final and a Champions League final with Chelsea, and an FA Cup final with Portsmouth, it's something of a surprise to hear him say that what he can add to Ghanaian football is "a winning mentality".
Grant is using a programme developed by Eitan Azaria, a reserve in his Maccabi Haifa side when they won the Israeli league in 2001 and 2002. He has on his phone an image titled "Avram's Triangle" that shows what he considers the three key elements: talent, passion and mental strength. Ghana – who, after the recent successes of Ivory Coast and Nigeria can, having failed to win the Cup of Nations since 1982, probably be considered the great underachievers of African football – have the former two in abundance, but insufficient amounts of the third.
"It's about how everything is in the head," Grant explains. "Mentality you can change. You saw it a lot of times in the past – players who were losers became winners. You put ideas in your mind. It's everywhere, business people and others.
"For example, when I came here I gave a lot of examples like Michael Jordan, Muhammad Ali. How they train, how they eat, how they did things to get to the top. And it helped a lot. The players even send me messages with quotes from these. And I said to them, even Michael Jordan until he was 25 everybody said he was a loser. So what happened? Phil Jackson came and what did he do? He didn't teach him basketball. Just put the monkeys in the head in the right place. I said one time to Drogba: 'In your head there are four monkeys, three chairs. Let's find a fourth chair.'
"So in Africa, it's something else. I came to Africa because I wanted to understand why from this talent you didn't achieve as a team something big. No African team was even one time in the semi-final of the World Cup. And I found out that what I say always to football players, business people and others: 'Nobody has enough talent to live on talent alone.' Somehow they live only by the talent."
There is talent in this Ghana side – Asamoah Gyan, the Ayew brothers, Christian Atsu – and, Grant insists, a growing maturity, although as they scraped a 1-0 win over Mali, having dominated the first half, holding awkward opponents at arm's length wasn't enormously distinct from panicking in the face of an unexpected fightback. That saw them through to the quarter-finals but defeat by Egypt in their final group game meant they didn't top the group.
Moving away from the dreadful pitch in Port Gentil, where they would have faced Hervé Renard's Morocco, to Oyem where they will play an exciting DR Congo, may not be the worst outcome. There was no suggestion, though, that Ghana threw the game, and nor was there any let up in the constant sniping from the Ghanaian media. "Ghana is the kind of country where there is always pressure," Grant said. "In a way they ignore the problems. They don't care. You come to the pitch and even if the kit man is playing you have to win 4-0 against Brazil."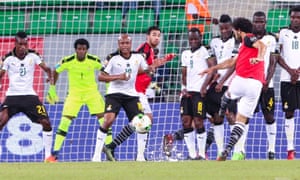 Since leaving the Premier League in 2011, Grant's career took him to Partizan Belgrade and the Thai side BEC Tero Sasana before Ghana, and he seems comfortable in his new surroundings. He rolls his eyes at minor inconveniences – he was impressively persistent in his quest for brown sugar to go in his coffee – and seems to spend his mornings in Gabon sitting reading or holding court in the hotel restaurant. He is relaxed, laughing often – he has a sardonic wit – and, as Ghana trained before the flaring chimneys of the oil refineries at Sogara, he was very obviously enjoying himself.
The Ghanaian media has criticised him for not spending enough time in Ghana, but that is an accusation he rejects. "I was in Ghana more than any other foreign coach before," he says. "I've seen all the teams in the local leagues." The players good enough to challenge for selection, though, are all in Europe. "I need to see them," Grant explains. "They [the critics] want me to be there all the time but they don't understand that for me Ghana is a vacation. You know that it's better to be in Ghana in a five-star hotel and eat well and see the game only at the weekend, instead of going every two days to another country to see games, especially in November, December."
He talks enthusiastically as well about the need to educate Ghanaian coaches, suggesting a lack of respected local coaches – only four of the 16 sides at this Cup of Nations have managers from their own countries – is one of the major reasons that African football is struggling to deliver on the potential shown by the Cameroon, Nigeria and Senegal sides of 15-20 years ago. "I did some meetings for local coaches in Ghana and the questions were good questions," he says. "But you saw also a lack of experience. It's a lack of exposure to the world. It's not they are not clever. Some of them are very clever but they don't know what kind of training you are doing in other countries."
The most significant part of Grant's education came at Liverpool when Bob Paisley allowed him to observe training at Melwood – although only after he had changed out of the blue shirt he had thoughtlessly worn on his first day. "He was a big, big influence, first because of the way he chose the players and ran the team," Grant says. "I came from Germany where the team-talk needed to be two hours and they'd speak about the opponent, but he spoke like two minutes before the game. Paisley didn't speak much, but when he did it was straight to the point.
"I remember they played against Everton. [The then coach Tom] Saunders was there and I said to him: 'Can I see the team-talk?' He said: 'We did it already. It's what the players came to do 10 minutes ago and we finished five minutes ago.' I asked him what was said and he said: 'Oh, two or three things.' I'd just come from Germany with two hours' team-talk about the opponents and I thought: 'Well, they won't win the game.' The result? They won. Then I started to think about the mental capacity of players to take in information.
"The way they played was unbelievable. I think people don't remember that but he really changed football in England. Nobody before played like this … They played on the ground, not long balls – and they won three European Cups. Since I was there I followed all the games and it was amazing to see them: tap, tap, tap, tap, tap. When you say 'tiki taka', it starts with them."
At Chelsea, having replaced José Mourinho in 2007, Grant found himself going through a similar – if far less radical – process. "When I brought Henk ten Cate to Chelsea, why did I bring him?" he asks. "He was at Barcelona and Ajax; I said: 'You run the training.' The method was no more long balls to Drogba; finished, whether you want it or not."
He remains close to many in the Chelsea hierarchy but that doesn't mean he isn't sceptical about some of their policies. He has seen first-hand with Ghana how the development of young players can be hampered by being loaned out repeatedly, but his criticism is more general than that. "I think the problem is that Chelsea don't have an identity of how they play," he said. "Arsenal have, Pep Guardiola has, they don't. They want to buy players and win titles but they cannot have an identity because they change coach every year or two years.
"On the other hand they have the director of football [Michael Emenalo] doing a good job, buying good young players, so the squad is fantastic – the most balanced in England."
For Antonio Conte and the impact he has had, Grant has nothing but praise. "Conte came at the right time; the players were ready for the change and wanted the change. With a lot of respect to José [Mourinho], I didn't like that the media said he was the king of the world and a genius – he was not – and he's not so useless like they are saying about him now. He's a good coach, with problems like any other person.
"What I like about Conte very much … I think he started [out trying] to please the supporters. He played 4-4-2 and he'd never played like this in his life – I've followed his whole career. He played three at the back with Juventus and had very good results in Italy; he came to Chelsea and changed: don't change your personality.
"There are coaches who can play different systems, like Alex Ferguson. Conte, Wenger, their style of play will not change and it's not good for them to change because maybe they don't know another system. I think the best thing to happen to Chelsea was that they lost 3-0 to Arsenal – then he came back to his roots and they play a system that is also good for their players."
The interest Grant takes in Chelsea perhaps suggests he still hankers after a return to the Premier League, but he insists he is happy to be taken wherever football carries him. He has seen too much to place too much store in great plans for the future. He is Israeli, his mother was from Iraq, and he now has Polish citizenship through his grandparents. He can adapt. Football is unpredictable, he acknowledges, "but it's good because it took me to wonderful places through all these exciting jobs".
But content as he seems, one lesson he learned from Tom Saunders stands out above all others: "He told me: 'The job of a coach is to worry.' So I worry."