African qualifying for the 2026 Fifa World Cup begins on 15 November, with the continent set to send a record number of nations to football's newly expanded global showpiece.

Only five countries were present at the 2022 finals in Qatar, where Morocco made history by becoming the first African side to reach the semi-finals.

However, nine African sides are guaranteed a spot at the next edition in Canada, Mexico and the United States, a tournament that will feature 48 teams, up from 32.

There is even the chance for a 10th to qualify via an intercontinental play-off.

With potentially double the amount of teams securing a ticket to North America, the Confederation of African Football (Caf) has changed the qualifying format.

BBC Sport Africa explains what you need to know about a campaign that will last for two years.

How can you qualify for the 2026 World Cup?

Caf has done away with its traditional preliminary round, in which lower-ranked nations were drawn into a series of two-legged ties, the winners of which progressed to a group stage.

The new plan was for all African nations to participate in a larger group stage - with the 54 entrants split into nine pools, each containing six teams.

However, Caf's plans were somewhat spoiled by Eritrea's late withdrawal from qualifying on 10 November, leaving Group E with only five teams.

Fixtures will be played home and away. The nine group winners will qualify for the World Cup.

The draw was conducted in July in Ivory Coast:

Group A: Egypt, Burkina Faso, Guinea-Bissau, Sierra Leone, Ethiopia, Djibouti

Group B: Senegal, DR Congo, Mauritania, Togo, Sudan, South Sudan

Group C: Nigeria, South Africa, Benin, Zimbabwe, Rwanda, Lesotho

Group D: Cameroon, Cape Verde, Angola, Libya, Eswatini, Mauritius

Group E: Morocco, Zambia, Congo, Tanzania, Niger (Eritrea withdrew on 10 November)

Group F: Ivory Coast, Gabon, Kenya, The Gambia, Burundi, Seychelles

Group G: Algeria, Guinea, Uganda, Mozambique, Botswana, Somalia

Group H: Tunisia, Equatorial Guinea, Namibia, Malawi, Liberia, Sao Tome and Principe

Group I: Mali, Ghana, Madagascar, Central African Republic, Comoros, Chad

When are the matches?

The first two matches in each group will be played between 15 and 21 November, while rounds three and four will take place next June.

With qualifiers for the 2025 Africa Cup of Nations also needing to be scheduled during 2024, the remaining six match days of World Cup qualifiers will be spread across the international windows in March, September and October 2025.

What about the play-offs?

Some of the runners-up in the nine qualifying groups will get another chance to reach Canada, Mexico and the USA.

The four best-ranked second-placed sides will be drawn into play-offs, with a semi-final and final in November 2025 determining which African side will advance to an intercontinental play-off tournament.

Eritrea's withdrawal will have an impact on those rankings, with Caf yet to make an announcement on how that matter will be resolved.

The final global qualifying round will involve six teams competing for the final two places at the 2026 finals, and is expected to be held in March 2026.

Are there any dark horses?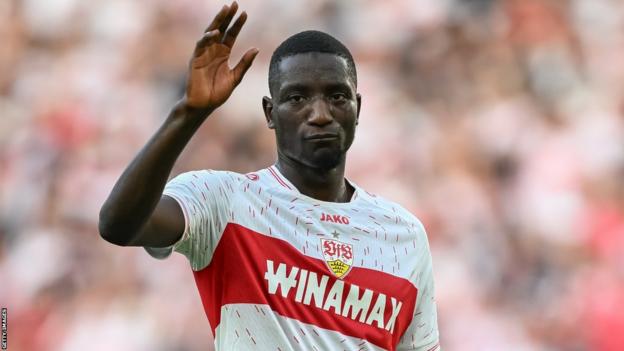 Can Serhou Guirassy help Guinea to the 2026 World Cup after a goal-laden start to the season with German club side Stuttgart?

Only 13 African countries have ever played at the World Cup, but an expansion to nine guaranteed qualifiers means there is a chance for some debutants in three years' time.

Each qualifying group for 2026 contains at least one side who have previously reached the tournament.

However, Mali - who were beaten by Tunisia in Africa's play-offs for Qatar 2022 - are the top seeds in Group I ahead of Ghana.

Burkina Faso, who finished fourth at the 2021 Nations Cup in Cameroon, could test Egypt in Group A while Equatorial Guinea secured home victories over Group H opponents Tunisia in qualifiers for both the 2022 World Cup and the 2023 Nations Cup.

Despite having a population of just over half a million people, Cape Verde have turned themselves into regular Nations Cup qualifiers, reaching four of the past six tournaments, and will fancy their chances of upsetting Group D heavyweights Cameroon.

Meanwhile, could Serhou Guirassy - who hit 15 goals in his nine league outings for Stuttgart this season - help Guinea overcome Algeria in Group G?

Given the qualifiers are spread over two years, with four matches taking place across September and October 2025, there could be surprises in store depending on the form and fitness of players.

Source: BBC Africa